The European Union (EU) has recognised two Ugandan activists for their tireless
campaign to stop child trafficking and deadly land mines.
The 2018 Human Rights Defenders Award went to Margaret Arach Orech, the founder of Uganda Landmine Survivors' Association and Peter Sewakiryanga, the founder of Kyampisi Childcare Ministries, an organisation that supports child victims of sacrifice.
The Belgian ambassador to Uganda, Hugo Verbist said the recognition was part of the EU's effort to raise awareness and draw action to the social causes championed by the winners.
Arach, who lost her leg to a landmine during an attack by the Lord's Resistance Army (LRA) rebels in 1998, uses her organisation to solicit for support for fellow survivors and persons with disabilities.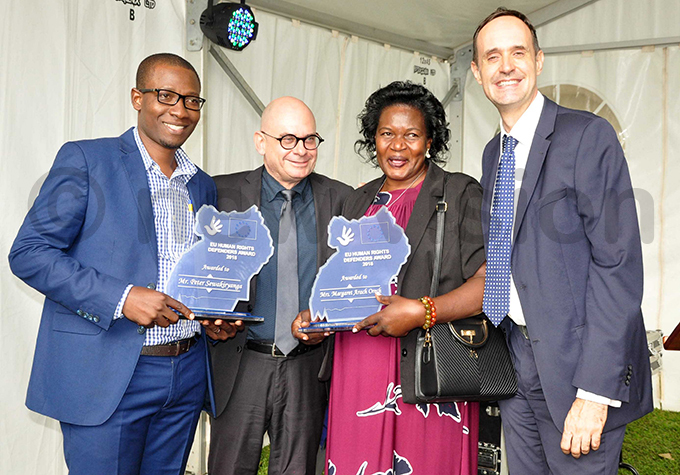 Sewakiryanga and Aroch with the Belgian ambassador to Uganda, Hugo Verbist (right), and Erwon De Wandel, the Belgian deputy head of mission. Photo by Ashraf Kasirye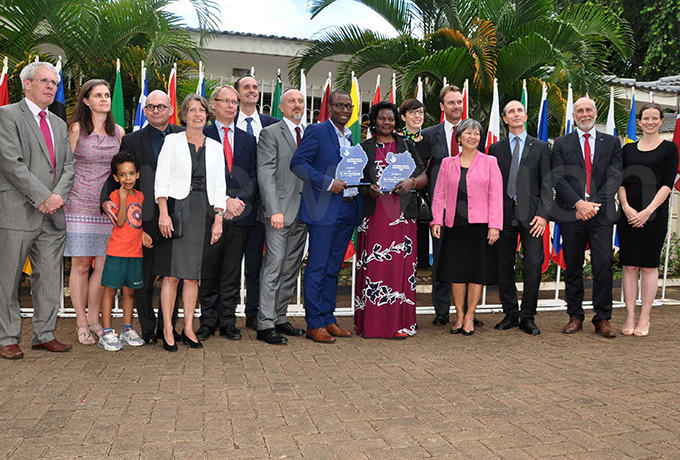 She has also passionately championed the ban on land mines and cluster ammunitions at international platforms to prevent their use.
Sewakiryanga, a pastor now takes care of 80 child survivors of trafficking and human sacrifice has built an extensive network linking communities and security to track suspected cases.
In 2017, Sewakiryanga travelled to Oman to rescue six victims of child trafficking. He is credited for championing research and spearheading an awareness campaign in communities to stop the crime.
Human rights defenders are individuals who, individually or with others, act to promote and protect universally recognized human rights and fundamental freedoms.